Flag Nightclub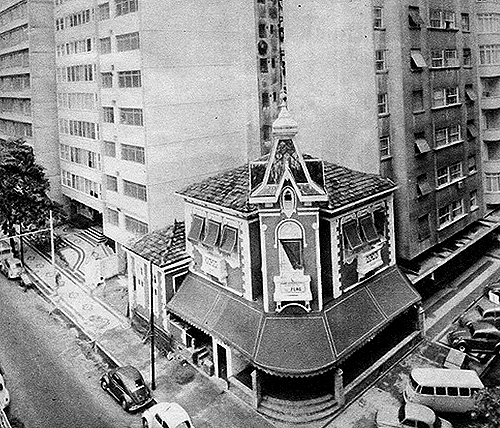 Ph
oto: Paulo Fonseca
The Jose Hugo Celidonio's nightclub,
Flag
, (Xavier da Silveira street, 13, Copacabana, RJ) had two floors: at the first floor, a restaurant and, at the another one, the famous nightclub where artists, like Nara Leão, Jorge Benjor and Erasmo Carlos, did great shows. It was also the scene of memorable jam sessions, therefore because of the quality of the Flag's musicians, the nightclub was frequented by many artists and influential people: Sarah Vaughan, Elis Regina, Chico Buarque, Tom Jobim, Vinicius de Moraes, Simonal, Erlon Chaves, Silvio Cesar, Ronaldo Boscoli, Ibrahim Sued, Danuza Leão, Tereza Souza Campos, Beky Klabin, Carlos Lacerda, Carlos Niemeyer... A lot of many excellent musicians played there, like:
Pianists: Luizinho Eça, Luis Carlos Vinhas, Tania Maria, Osmar Milito, Laercio de Freitas (Tio), Fred Fieldman e Don Salvador
Organist: Juarez Santana
Bassists: Tranka Oliveira, Luis Chaves (Zimbo Trio), Ricardo Canto e Mello e Nilson Matta
Guitarist: Rosinha de Valença
Saxophonists: Tranka Oliveira, Paulo Moura e Juarez Araujo
Drummers: Edson Machado, Salgadinho, Luis Carlos, Chico Batera, Boi Cansado, Roni Mesquita e Boto Singers: Paulao, Rose e Marilia Barbosa

Celidonio opened another Flag nightclub in São Paulo, where Cauby Peixoto did a lot of shows. In 1973, Flag-Rio closed its doors and Jose Hugo Celidonio dedicated only to gastronomy.
Back to
Who We Are
---
Marcia Calmon & Tranka
Concepção e Textos: Marcia Calmon